We help make your dream day come true!
So, I've got 2 girls, the older being 4 years old LOVES Disney's new movie Frozen! Wait, I love it too! We listen to the sound track constantly, have seen the movie quit a few times, and have it already pre-ordered for when it comes out on DVD next month! I know a few little girls that are having a Frozen themed birthday party, but have yet to see a Frozen themed wedding. Being a Disney Bride myself, I had a Cinderella themed wedding, so why not bring it up a notch and have Frozen right?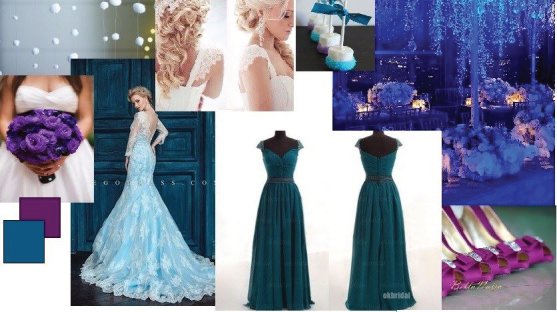 The ceremony will have strands of puffballs that give it a snow falling look by the alter, and white rose petals down the aisle, with either white branches or white lanterns with candles lining the way. The brides dress will have lace sleeves, and lace details. The famous Elsa braid in her hair, and carry a purple bouquet. Bridesmaid dresses will be a deep teal to match Anna's dress, all bridal party can wear purple shoes. 
Reception will be like entering an ice cave! With hanging ice looking crystals as centerpieces, with purple and blue uplighting creating the ice look around the room. White flowers will also decorate the tables, and romantic candles spread throughout. 
I hope you love our inspiration board, and this gives you a few ideas to create your own Frozen themed wedding!
Someone mentioned that they wanted to have a Snow White inspired wedding, with yellow, blue and red. So my wedding planning gears started turning and this is what I came up with. Apple candle favors for the guests, dark blue table clothes with yellow napkins, branches and red apple centerpieces on top of mirrors. Ceremony site outdoors with red and yellow flower petals lining the isle way. Alfred Angelo Snow White wedding dress, with brides hair pined back Snow White style with a red ribbon. Brides bouquet yellow and blue flowers with a blue ribbon. Cake in the traditional Snow White colors giving it a playful feel, with Snow White and her Prince charming as cake toppers. Place Cards, simple apples with the guests name attached to the stem, and the tables named after the 7 dwarfs.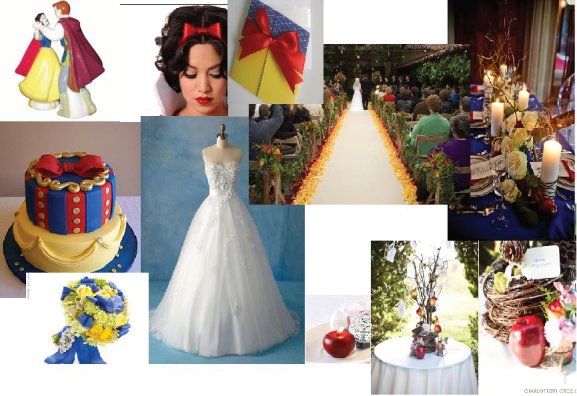 Want to see other inspiration boards by us, check out our Facebook page:
At Last Event Planning
/